The ultimate in relaxation: measuring between 25 and 35 m², the Gezeiten Suites are our biggest rooms for complete peace and quiet. Two separate areas provide you with all the room you need to relax and enjoy the fresh North Sea air, even when it's raining cats and dogs.
Relax after taking a sauna in our spa area or enjoy a glass of wine. Everything you need for those indulgent moments. And for those days that will live in your memory forever.
Other rooms
Stylish & Relaxing
Location
54°18.64(N) | 8°36.79(E)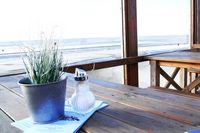 Our hotel in St. Peter Ording is perfectly located, whatever your holiday plans. The beach and promenade are within walking distance and a wide array of shops can be found on the same street as our hotel, as can restaurants and leisure facilities.
As we are just a stone's throw from all the hustle and bustle, our hotel is close enough to all the action while still offering peace and quiet. There is nothing to get in the way of a relaxing holiday. We can also arrange for your transfer from the train station to our hotel, so there's nothing left for you to worry about. Other than relaxing.
Nothing beats relaxation for a perfect holiday. That's why our hotel has a large spa area. Relax in our regular sauna or in our special infrared sauna, which will leave you feeling completely relaxed, even at moderate temperatures. Our spa also features a chill-out zone with extra drinking water, a foot spa and an outdoor area where you can cool off.
There is nothing more relaxing than ending the day with a trip to the sauna or chill-out zone after a lovely day at the beach. We provide everything you need – all you have to do is relax.
Spa
FOR BODY, MIND AND SOUL